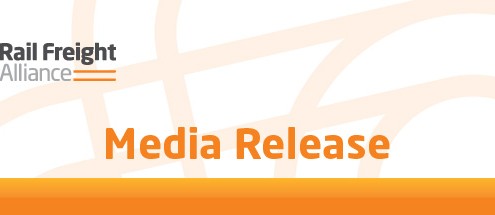 Where is the Guarantee
As the State Government Election looms rural and regional communities are left in doubt about the Murray Basin Rail Project.
A Delegation of Rail Freight Alliance members met with Hon. Andrew Broad Assistant Minister to the Deputy Prime Minister in Canberra this week to discuss significant flaws within stage 3 of the projects.
The Murray Basin Rail Project is of vital importance to Western Victoria, a 5-stage project that was scheduled to be completed by the end of this year. But due to budget blow outs, unrealistic times frames, poor project management and an announcement by Minister Allan of the need to rescope the project, sees stage 2 currently not fully operational and the next stages yet to commenced.
This project was partly funded by the sale of State Government asset, The Rural Finance Corporation, the Victorian Government committed $220 million of the $440 million they receipted from the sale, with the Federal Government matching the $220 million dollar for dollar.
Rail Freight Alliance Chair Cr Glenn Milne said, "We went to Canberra in hope the Federal Government as co funders of the project can help us influence the State Government to untangle this mess."
The Andrews Government announcement of dual gauging the section of track between Maryborough and Ballarat, is a disaster.
"The dual gauge track will increase maintenance cost, add additional signaling costs and slow passenger services. The Andrews Government is building an inefficiency into the entire system." Northern Grampians Mayor, Cr Driscoll, "it is ludicrous, this means a bus service will achieve a quicker travel time from Maryborough to Ballarat than a train."
"This project was meant to be a game changer for Western Victoria and the State. Now we really wonder if this project will ever be finished", Rail Freight Alliance Cr Glenn Milne said. "One would ask if the intention of dual gauging the track between Maryborough and Ballarat leads to a lack of any urgency to ever complete the final stages, being the Sea Lake and Manangatang Lines and section of track between Ballarat and Geelong." "We could end up with a half-done disaster. We need a commitment from both Daniel Andrews and Matthew Guy that this project as originally scoped will be completed." Cr Milne said.
The Rail Freight Alliance has always maintained that the entire network with the Murray Basin Rail Project should be standardized, with a 21-ton axle loading and a dedicated passenger service from Maryborough to Ballarat. The Alliance is seeking a pre-election commitment from Daniel Andrews and Matthew Guy that stage 3 of the project be reconsidered and the entire Murray Basin Rail Project be standardised as a matter of priority.
ENDS
Media Contact: Rail Freight Alliance Chief Executive Officer, Reid Mather – 0428 772 264
https://railfreightalliance.com/wp-content/uploads/2018/07/Media-Release-495x215.jpg
215
495
Reid Mather
https://railfreightalliance.com/wp-content/uploads/2014/06/RFA-Logo-Header-300x94.png
Reid Mather
2019-03-11 13:06:53
2019-03-11 13:06:53
No Guarantee